Orange Caramel's current 'quirky cute' concept is not the result of a stroke of marketing genius or eureka moment. It was more evolution than pivot, the move from what began as your run-of-the-mill saccharine cute concept with "Magic Girl" to concepts that only seemed to becoming increasingly more odd with each comeback. Granted whether or not "Aing" and "Bangkok City" qualify as odd is more of a matter of personal taste than something that can be objectively proven. It was not until 2011's "Shanghai Romance" that the oddness became something intentional, played up for comedic effect in the video where Orange Caramel tries and comically fail to impress their love interest played by Nu'est's Minhyun.
To put it another way, "Shanghai Romance" was a critical turning point in the evolution of Orange Caramel's image. It was the first time that they were willing, at least temporarily, to go against the mandate that female idols most always strive to appear 'pretty,' showing a willingness to use humor even at their own expense. All of this has carried over to their subsequent releases, evidenced by their stage costumes for "Catallena" which were literally decorated with food for "Catallena," and painted eye teasers for "My Copycat."
Yet while much is owed to "Shanghai Romance" for Orange Caramel's current concept that has aided them in their rise to popularity, their current aesthetic style that has characterized their last three releases is not. When "Shanghai Romance" is viewed against the releases that followed it — "Lipstick," "Catallena," and "My Copycat" — they clash. The former's concept is all about working weirdness into the more typical k-pop aesthetic, tucking it into details while with the latter Orange Caramel is trying something new. Through these releases they have been working to define and cultivate their own unique style, one of offbeat concepts, garish colors, and outlandish costumes that more often than not feature bows and are set in flat spaces, against brightly colored backgrounds against which Orange Caramel appears almost cartoonish.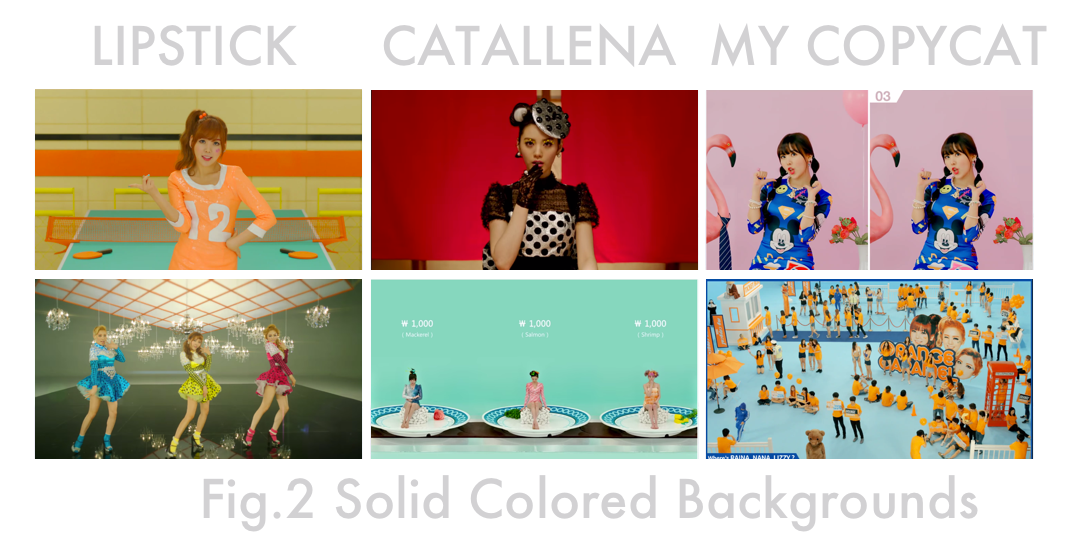 It is this visual style that Orange Caramel owes some of their current success, and for that Digipedi deserves most of the credit. With the exception of their costumes, the duo has been behind the concept and videos for the group ever since 2012's "Lipstick." That sushi concept for "Catallena?" According to an interview with noonchi, that was their idea. And those vibrant, sometimes clashing color palettes and flat settings? Also them. In fact, that Orange Caramel has such a consistent visual style is mostly the result of their working with Digipedi, whose own iconic style has become part and parcel with that of Orange Caramel's.
Such a dynamic has the potential to turn out badly, mimicking Orange Caramel's parasitic relationship with their parent group After School, whereby the Digipedi style becomes known as the Orange Caramel style. But for now Orange Caramel and Digipedi have managed negotiate a much more symbiotic relationship. Orange Caramel's rise in popularity, again due to their concepts, has not resulted in the usurpation of their style, but only positive attention being directed back at Digipedi. The concepts that Digipedi has created for Orange Caramel have been some of their more inventive and creative like their hybrid, "Spot the Difference" / "Where's Waldo" for "My Copycat." Orange Caramel has reaped the rewards of that video as well, in both attention and the organic viewings and re-viewings that are encouraged by its game-like nature. 
In the near future it may be impossible to talk about Orange Caramel without making reference to Digipedi just as it was once impossible to talk about SISTAR without mentioning Brave Brothers or KARA without Sweetune. After all the 'who' of Orange Caramel has as much to do, if not more, with their specific image as much as it does their music. For that, Digipedi deserves their due.
---