What was it about k-pop that made it so appealing to Japanese audiences again? Wasn't it something about a different sound, idols that have had more extensive training and offered female role models preferable to those of populating j-pop's girl groups? Then again trying to reach a consensus on this particular issue is not necessary, since the only reason to bring up k-pop's earlier success in Japan is to try and figure out where the problem is. If k-pop groups who still possess all of the qualities citied as reasons for their success, why have sales been on the decline?
The answer has less to do with k-pop groups lacking something, and more to do with misperception of k-pop's success in Japan. In attributing k-pop's appeal to these intrinsic qualities, and in effect buying into the idea of k-pop's unique exceptionalism, little heed was paid to those external factors that were integral to k-pop's rise like timing and novelty. Given how fickle both of these are, neither should serve as the cornerstone for any long-term strategy as it did for so many k-pop groups, as it inevitably dooms them to eventually fizzle out.
With association with the Korean wave no longer commanding the same attention it once did in Japan it is little wonder that a group like KARA, who despite once credited with conquering the Japan has also suffered declining Japanese sales, is distancing themselves from it. In an interview in August Gyuri remarked, "The K-POP fever has calmed down as compared to past in Japan now. But rather than riding on the K-POP boom, I feel that it's important for us to be loved purely as KARA." This may sound like typical k-pop posturing, the same empty talk from groups promise to win fans over with their unique charms or singing prowess alone, but place it within the context of KARA's career in Japan. They were never one to lean to rely too much on the Korean wave for their recognition, opting to mold their image and sound to the j-pop idol market, a process in academic parlance referred to as "localization." Hence why almost all of KARA's new releases in Japan are met with comments bemoaning songs that sound too much like j-pop and that their image lacks the fierceness of KARA in Korea.
There was also those seasonal singles, covered in an earlier post on this blog, "Details #4: KARA's Seasonal JP Singles." Released between 2011 and 2012, KARA released three seasonal singles, "Go Go Summer," "Winter Magic," and "Girl's Power," which were based on j-pop's predilection for releasing songs based around summer or holidays. Now, with their declining sales though, they have revisited their well-proven and comfortably predictable strategy releasing a second set of 2013 seasonal singles — "Bye Bye Happy Days," "Thank You Summer Love," and "French Kiss."
Comfortably predictable though is hardly a compliment for k-pop for which its newness and innovation is positioned as a selling point, especially when it is akin to the criticism often lobbed at j-pop and its idols. KARA taking cues from these same idols who release summer singles each year is surely proof that they have picked up on that stagnation that has settled over parts of Japan's idol scene. But complacency is not all KARA has picked up from their adherence to the j-pop model. Present in this second generation of seasonal singles are the sort of allusions to Japanese culture, that are so often found in j-pop, but not evident in the first generation of singles.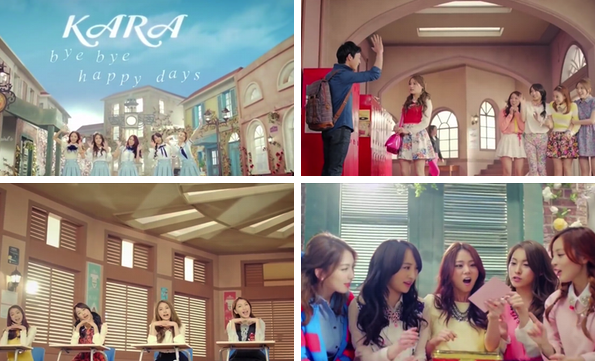 Take, "Bye Bye Happy Days," the first in this series. While the case could certainly be made for it to be categorized as a spring single, it is intended as a graduation song. Hence the release date that is in the midst of graduation season, which in Japan falls in the spring, and a PV with the requisite graduation imagery like cherry blossoms — a symbol of new beginnings and transience — classrooms, and reminiscing about the past and lyrics full of clichés about looking towards the future.
"Thank You Summer Love," despite being billed as a companion track to their first summer single, "Go Go Summer," is more along the lines of "Bye Bye Happy Days" in terms of its representation of the summer. Instead of rehashing the same j-pop summer PV tropes they used for "Go Go Summer," "Thank You Summer Love" shows KARA on a camping trip partaking in quintessential Japanese summer activities like making and eating kakigōri and watching a fireworks display.
The third and latest single in this series, "French Kiss," follows this same pattern. The song is about a "a girl who spends a romantic Christmas Eve with her lover," reflecting the fact that in Japan, Christmas Eve is more a day for couples — thus couples populate the background of the PV, while the members of KARA wait for their boyfriends — than religious observance.
Prediction for KARA's next move in Japan: They will release another graduation single, with a PV with them dressed in school uniforms followed by a summer single with bikinis or yukatas. Or they will divide into unit groups or release a cover album. Japan will no longer be where KARA releases their best or even most interesting songs, unless it is of course in a b-side or album track like "Hanabi." Instead, they will stick to safe bets that will not alienate fans, allowing them to maintain the level of success that sells tickets to their concerts and justifies them being there in the first place. Such is the reality of the current situation of k-pop in Japan. At least we will always have their Korean releases.
---